Audacious Generosity: How to Experience, Receive, and Give More Than You Ever Thought Possible
Kevin White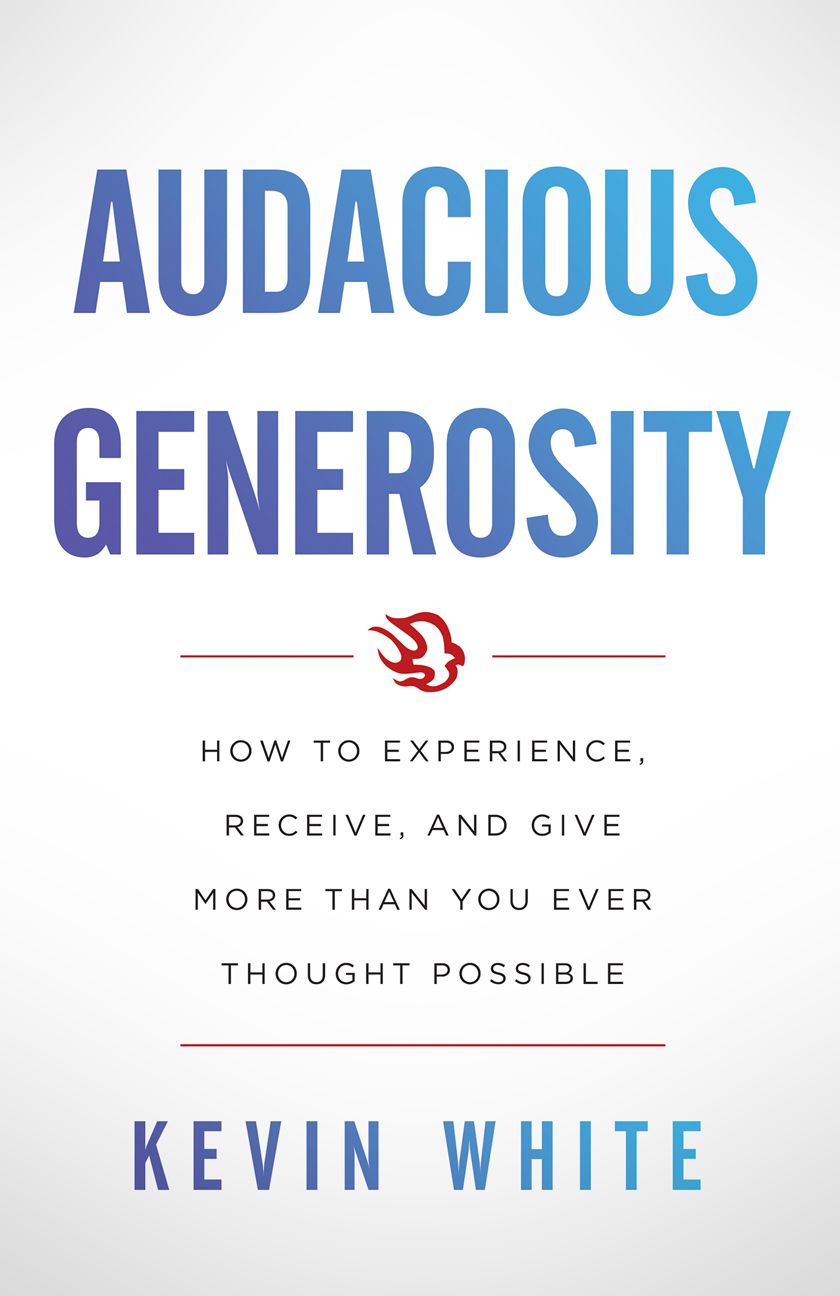 WHERE GOD IS THE GIVER AND GIVING DEPENDS ON WHAT GOD PUTS UNTO YOUR HANDS.
Given the choice, every one of us wants to be more generous, but fear holds us back. Audacious Generosity shows you how to exchange any sense of pressure and regret about giving for genuine confidence and satisfaction.
Gone are the days where you feel pressured to be the giver. Instead, Audacious Generosity will empower you to give limitlessly—as God gives through you.
By reading this book, you will learn to enjoy a loving relationship with God that's fueled by courage, characterized by freedom, and overflowing with audacious generosity. As God combines courage and freedom in your life, you will experience, receive, and give more than you ever thought possible. See what happens when you open your hands to God and commit in advance to use what He puts into our hands to fulfill His mission.
Press & Praise
Dr. Neil T. Anderson, Founder and President Emeritus, Freedom in Christ Ministries
"After finding my identity and freedom in Christ, my concept of Stewardship has been governed by two simple principles: "Never deny a generous impulse" and "You can't outgive God." Audacious Generosity is simply extending to others what God has given to us. Kevin didn't seek to be generous, he sought the Lord and His presence. The result is a ministry that exceeded his expectations. Audacious Generosity is a treasure for those seeking to discover their potential to be all that God created them to be."
Dr. Anil Benjamin, Physician, Shalom Medical Centre, President, Bridge of Hope, India
"Read Audacious Generosity only if you are willing to risk being transformed by God. No matter where you are today, Audacious Generosity can be the springboard launching you into being a person who would bless the nations.
In this compelling, practical, and easy-to-read book, Kevin shares from his personal experience of how God transformed someone with absolutely no hope for a future into a person who is passionately inspiring people around the world to experience abundant life in Christ. I dare you not to miss the opportunity of impacting millions in this world by understanding your unique role in fulfilling the great commission."
Rev. Achu Chang, Executive Secretary, Chang Baptist Churches Association, Nagaland, India
"The title Audacious Generosity is so Kevin. I have been associated with Kevin White since 2013, and I know him to be the most generous and selfless person, generous without a fault! I can vouch that every page resounds that testimony. I will recommend everyone to grab a copy and read it. Audacious Generosity will inspire you, challenge you, and ignite the joy of giving in you."
---