The 8 Secrets of Buying the Right Dental Practice
Fabio Oliveira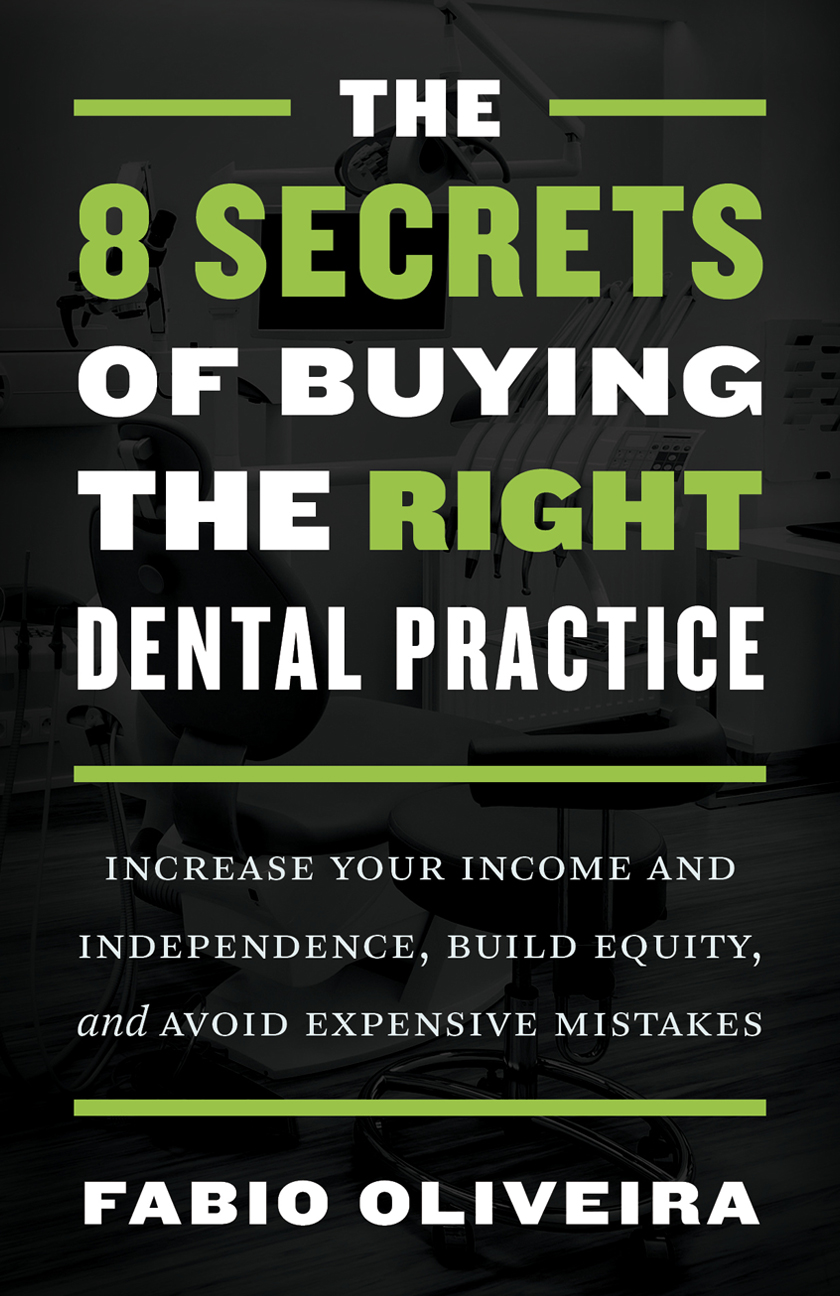 FOR OVER TEN YEARS, I've been obsessed with helping private dentists chase their entrepreneurial spirit to become successful practice owners. All over the country, I've had the pleasure of working with very successful doctors who buy highly successful dental practices. There's nothing more rewarding for a doctor than practicing on your own terms with full clinical autonomy. The best part for me is seeing my clients experience a pride of ownership that very few people get to experience in life.
Every week, I speak to at least ten new dentists looking to buy a practice. And the most common question I get is this: "How do I know what a great practice to buy looks like?"
The thing is, that's the kind of question that takes years of experience to answer. Unless you really know the ins and outs of evaluating a dental practice acquisition, you're bound to miss the key indicators of the right practice—or worse, buy the wrong one.
That's why, in this book, I'm going to show you the eight characteristics, or "secrets," of a great practice to buy—all backed by evidence and hard data—so you'll know exactly what to look for when you're ready to buy.
Press & Praise
Roberto Macedo, DDS
Buy The Right Practice helped me avoid a big mistake and buy the wrong practice that would have brought me a lot of headaches. Then it helped me find a great practice to buy that met many of the criteria.
Justin Scott, DMD
Fabio Oliveira has helped me own two practices that together generate over $4 million in revenue. The amount of money I'm taking in has gone up significantly since I was working as an associate dentist. Last year, I traveled to nineteen countries while my business still generated cash flow at home.
Alexander Ferdkoff, DDS
The 8 Secrets has changed my life in a lot of ways. I've purchased an underperforming practice, and only one year later, it is generating double the revenue I paid for. The amount of money I'm making has gone up, and I'm looking to buy another. I spend much more time with my family than I did working as an associate.
---