Cleared Hot
Brian Slade and Michael Hirsh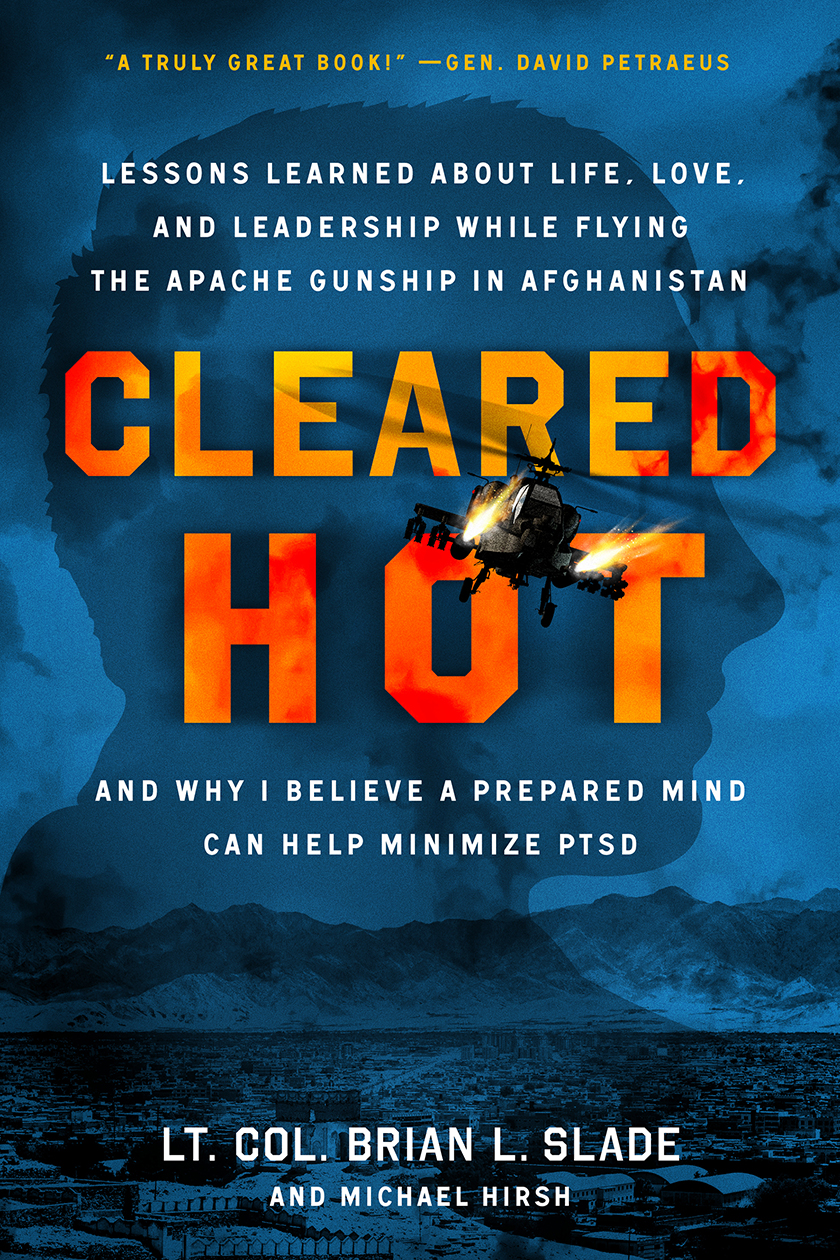 One in three will experience a significant trauma in their life. For army Apache pilot Brian Slade, his first was in Afghanistan.
Offering a unique perspective on preparing one's mind for trauma, Cleared Hot is intense, instructive, humorous, and brutally honest. This book puts readers in the cockpit of the most lethal helicopter in the world as Slade learns on the job, combating a tenacious enemy against all odds in the most challenging environment imaginable.
In what General David Petraeus is calling "a heck of a ride," Slade navigates the ugliness of combat while working to preserve a difficult marriage to a wife suffering from mental illness. Witness the challenges that taught him universal lessons on resilience and coping, and how they equipped him to think fast under pressure and maneuver through a curtain of enemy fire that crippled his aircraft and wounded his copilot, ultimately earning him the Distinguished Flying Cross.
Cleared Hot offers readers an exhilarating ride while giving them tools they can use to survive the traumas of their own lives. See what General Petraeus and others have to say in the editorial reviews section below.
Press & Praise
Gen. David Petraeus, US Army (Ret.), former Commander of US Central Command and the NATO and US Forces in Afghanistan and former Director of the CIA
A TRULY GREAT BOOK! Cleared Hot is intense, compelling, instructive, humorous, and brutally forthright. It is also truly inspirational. It takes the reader on an extraordinary journey-through the formative years of a fiercely independent and competitive individual and then into the cockpit of an Apache attack helicopter engaging in ferocious combat with a tenacious enemy in the most challenging environment and context imaginable. It explores the challenges of dealing with family issues on the home front during a time of war, as well. Brian Slade also guides the reader on a very instructive examination of the use of traumatic experiences to foster the development of mental resilience. Cleared Hot provides for a heck of a ride!
Scott McEwen, co-author of The New York Times #1 bestseller American Sniper
Truly a one-of-a-kind war story, Cleared Hot vividly captures the shock and awe of battle from the perspective of the ultimate close-quarters combat war machine-the Apache. Do you think they are insulated from casualties? Think again! From laughter to outrage to heartbreak and back again, this book is a must-read for anyone wanting to know the truth of what these warfighters bring to the battlefield!
David S. Wood, PhD, MSW, assistant professor at Brigham Young University's School of Social Work and operational psychologist in the Utah Army National Guard, holding the rank of major.
Brian Slade is a tough-minded and candid individual who, out of a concern for the wellbeing of others, is eager to share his personal experiences. His extensive military leadership and combat experience give him credibility that can be earned in no other way. Cleared Hot is a superb amalgamation of his experience and insights. Readers will be drawn into his compelling narrative and emerge with insights on facing the demands and adversities of life with vigor and a ready mind.
---